Different methods of backing up data
The importance of choosing the right method of backing up your company's data is no longer to be proven. There are many solutions available to you. They all have advantages and disadvantages, more or less reliable, should we accumulate different means of safeguarding its data?
There are several methods:
Local backups
Remote backups
Mixed backups (local and remote backups)
Local backups
A local backup is a copy and storage of your company's data on your premises.
Support for backing up this data can be, for example, a USB stick (small storage capacity), an external hard drive or a NAS (Network Attached Storage) which is a more sophisticated method of network storage system.
It is advisable to provide at least 2 copies of this data, including 1 outside the company in case of theft, flood or fire on your premises.
The biggest drawback of physical local backup is human error: a backup oversight at the wrong time and all your company's data will be lost. You are also not immune to mishandling or losing your storage device.
You can set up an automatic backup system depending on the media you choose and decide on a backup frequency so you don't forget to do it yourself.
Remote backups
Remote backups are called cloud solutions. They are net-based and easy to use. Storage capacity is almost limitless, the possibilities are numerous and adapt to the needs of all businesses.
To back up a sensitive data set in a fully automated and secureway, this is the best solution currently on the market. Stored data is accessible everywhere and all the time. The cloud is therefore at the service of telework and helps greatly collaborative work.
The condition for this solution to be the most reliable is to go through serious and certified providers who will provide you with all the data protection information.
Again, there are many cloud backup solutions: shared or private servers.
Its vulnerability lies in the possible malfunctions of providers or regarding their security: computer hacking.
For these reasons, it is necessary to get closer to a specialist who will guide you and advise you as best as possible in the choice of provider for the backup and protection of your company's data.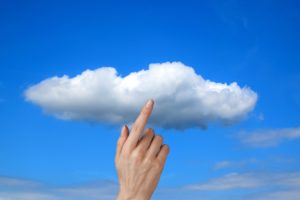 Barraud consulting, expert in safeguarding your data
No cloud service provider is invulnerable,the consequences of thefire atOVH on the night of March 09, 2021 is proof of this. Many customers found themselves in great difficulty when they thought they were safe, hence the importance of providing an external backup solution.
Regardless of your industry and the size of your business, our team of experts will support you in choosing your backup method.
Together, we'll find the backup method that's best for you.
Trust Barraud Consulting to secure your business data, control the cost of backups and manage their setting.