User Experience or UX
The user experience on a site is the ease for a user to navigate on this site.
It highlights a fluid, pleasant and intuitive interaction.
This term is recent, it was first used in 1995. The UX is very broad and takes into account many criteria.
Factual criteria: such as the speed of the site, its ease of navigation, the presence of a clear menu, its mobile version …
Subjective criteria: such as the emotion felt by an Internet user during his visit.
What are the UX criteria?
It has been highlighted 7 main criteria essential to the User Experience on a website :
Utility
Usage
Accessibility
Credibility
Design
Added value
Visibility
These criteria must be taken into account to offer the best experience to its visitors on its website.
More than 65% of Internet users leave a site when it does not meet the UX criteria.
UX best practices
How you integrate the key elements of your site design can greatly contribute to the success of UX.
Among the elements that must be on your checklist, here are some that should not be forgotten:
Set up a visual hierarchy and highlight the important elements
Don't push the standards. A customer area is almost always at the top right, no need to move it and let your users get lost.
Use consistent elements
The navigation menu should be clear and simple to use. It must be fixed and on all pages.
The site must perfectly adapt to mobile navigation (responsive)
Don't overload your pages… Ventilate and bring out what's important.
Think about the loading speed of your pages and avoid making them too long to load with non-essential elements.
Include an internal search bar
Optimize your content to be visible on search engines: SEO
Many other criteria are to be taken into account, depending on your target, the purpose of your site: showcase or e-commerce, the type of information present in your site …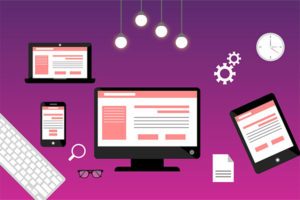 UX in e-commerce
Do you want to optimize the User Experience of your online sales site?
From interacting with your prospects to facilitating the buying action, to listening to customer satisfaction, here are some best practices to ensure the most positive customer experience possible.
Your payment options should be secure and simple. Offering payment without creating an account is also an alternative that will facilitate the purchase action.
The social networks of your e-commerce site must be neat and in agreement with your site.
Take into account customer reviews and their satisfaction as well as their remarks.
Fill in the forms of your products for sale correctly.
Think of the blog. It is useful for your natural referencing, it is a gateway to your site and allows you to deepen certain topics related to your business.
Personalize your messages. With the purchase history of your users, personalized content with the information left during a previous visit…
The essential role of UX in cybersecurity
In the service of effective cybersecurity, UX can prove to be a real asset and strengthen a company's defense posture and the digital trust of employees and customers.
The UX must allow the user to easily appropriate the site, to understand it and to want to use it. Sometimes he simply wants to be forgotten by having the possibility to delete all his confidential data easily. It is therefore necessary to promote the implementation of cybersecurity through UX, taking into account the reality of the uses behind it.
Securing the processing, sharing or storage of files uses very complex development techniques, encryption and other technological innovations.
For Internet users, misunderstanding and difficulty in getting started with security systems can be a hindrance to the daily use of an adapted security solution, which constitutes a significant risk in their navigation.
In other words, companies need to be able to provide effective end-to-end security that allows both employees to focus on their core responsibilities and customers/consumers to focus on navigating for the services they need.