The term "firewall" in computer science
The firewall,also called Firewall,is a security device to protect your local network,and more generally your entire computer system,from hacking and attempted intrusions of any kind.

When your computer is connected to the internet,it may fall prey to malware. The job of the firewall is therefore to protect your infrastructure (PC, servers etc.) from viruses and computer hacks by analyzing incoming data on a network and outgoing data. If it detects suspicious elements in the analysis of this data, it will block them to protect your IT infrastructure.
A true filter gateway, it is possible and highly recommended to install a firewall on all computers, whether or not they are already equipped with an antivirus. Some of these antivirus are themselves equipped with firewalls.
Windows and Mac OS operating systems have a built-in firewall. If it needs to be manually activated on Mac, on Windows it works automatically.
How a firewall works
Its system is based on a set of rules that will:
– Allow the connection
– Block the connection
– Reject the login request
At the timeof installing your firewall,you have the choice between allowing only accepted communications or choosing to prevent exchanges that have been banned.
It will be necessary to distinguish between these two types of security policies,and choose the most suitable one. In general, the first policy is the one that will be recommended to you. Indeed, a task should only have the opportunity to carry out that actions whose functional utility is proven.
The flow of data exchanged between your computer and the internet is called a "package." The firewall will therefore analyze each of these packages based on certain specific characteristics:
– the issuer's IP address
– receiver's IP address
– type of transport or protocol
– service or port requested.
The difference with antivirus
An antivirus will ensure the security of the computer system. Malware, from the internet, is blocked by this antivirus,before it causes damage to your computer.
An antivirus will: detect, identify and remove the threat:
Detect: The antivirus receives an attack signal and locates the infected file
Identify: It will recognize the type of virus.
Delete: Finally the software will delete the infected file, then restore it to its original state.
The firewall is used in software and hardware while theantivirus can only be installed in software. But how they work is also different:
The firewall monitors and filters incoming and outgoing data. It only blocks TCP/UDP ports with port authorization rules.
The antivirus scan: detection – identification – deletion. It will deal with internal and external attacks.
Firewall and antivirus are 2 techniques for the security of your infrastructure. Although the way they operate is different, both allow your infrastructure to have the best protection against internal and external threats.
Different types of firewalls
There are three different types of firewalls:
Software firewall:Can be downloaded through a vendor, these are specific applications: for example, the firewall of Windows or a MacOs. This tool can filter a lot of information but is unfortunately not foolproof.
The material firewall:it is found in the form of a simple physical router. Only dedicated to data filtering, we recommend products in the Sophos range that are more complete: firewall, IPS, Web Policies, antispam etc. These tools can cover many needs. The Sophos range also offers a cloud version. Its advantages are manifold: it filters every data entering your computer, it's easy to turn on and off, and it doesn't slow down your computer.
The cloud firewall: you can access a firewall server without any installation. A monthly or annual subscription will allow you to protect your computer and evolve your protection to suit your needs.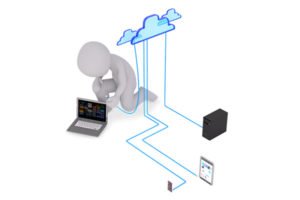 The limits of a firewall
An essential element of computer security, firewalls do not protect against all threats. Attacks from removable devices such as USB sticks do not fall into control of it.
Some viruses may also hide in an authorized stream, for example in the attachment of an email received by a customer known to the company.
The evolution of computer protection systems makes it possible to offer more and more additional protections as an option against all threats. It's all about risk analysis and the budget you want to allocate to your IT protection.
Choosing the most suitable firewall for your business
How do I choose a good firewall? Virtual or physical, you will need to analyze your computer structure and make the most relevant configuration.
Depending on thearchitecture of your computer network,whether or not a mail server is present, the need to manage multiple connections simultaneously… You will choose the most suitable firewall for all these specifics.
Firewalls are not configured for purchase because they have to adapt to the network architecture of their recipient. In other words, you'll need to set up your firewall based on your needs and the security policy you want to put in place.
More or less tedious depending on the firewall chosen, the installation of the firewall can be done by a provider.
Barraud Consulting, IT security specialist
We can't say it enough: the security of your IT infrastructure is paramount. The evolution of digital technology has grown so much in recent years that every data from a company is stored on computers.
Losing data that is essential to the work of its employees, or worse, having its customers' confidential data hacked, has a very negative impact on a company.
Companies must now be protected and provide sufficient protection for customers to trust them.
Barraud Consulting, an IT services agency in Geneva for more than 30 years, puts all its know-how and knowledge at the service of its clients.
The field of IT services is constantly evolving, Barraud Consulting puts itself in the shoes of its customers to provide them with IT solutions tailored to their needs,and allow them to remain at the forefront of technology.
Trust us to manage your IT security.